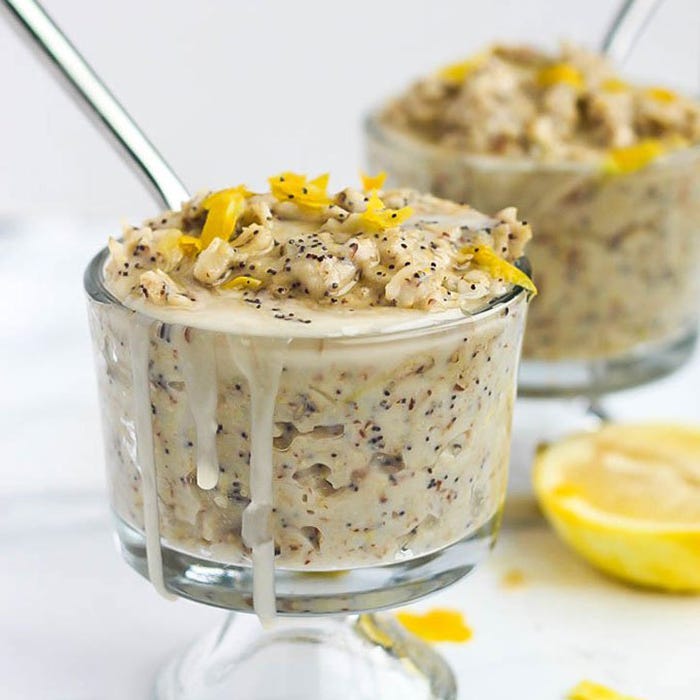 Lemon Poppy Seed Oatmeal
In need of an oatmeal upgrade? This version takes the classic recipe up a notch by incorporating lemon and poppy seeds. (Yep — like the muffin, but better.)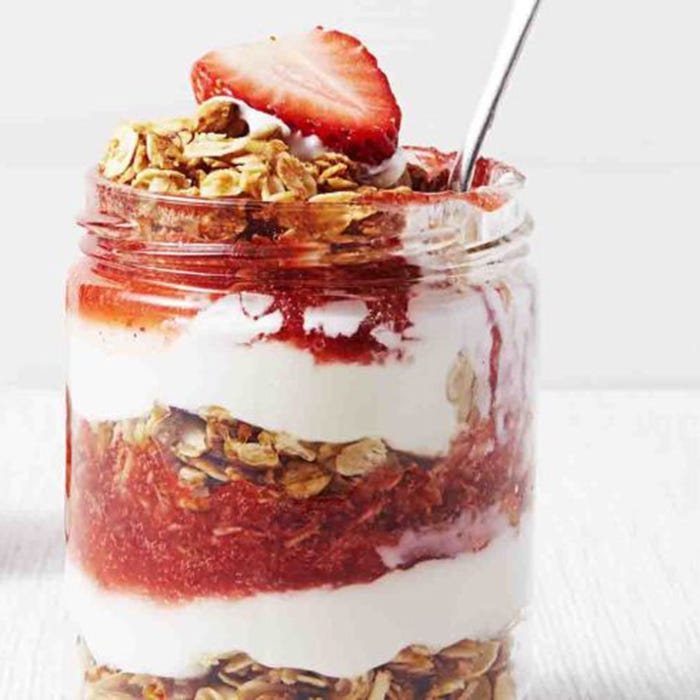 Strawberry Granola Yogurt Parfait
Ready for an easy-to-make parfait that will make you feel like you're eating dessert for breakfast? Try this recipe from Delish.
1 lb. strawberries, hulled
3/4 c. sugar
1/2 tsp. cinnamon
1/2 tsp. lemon peel
1/2 tsp. vanilla
1 tbsp. lemon juice
1/2 c. granola
1/2 c. nonfait plain yogurt
Make the Coulis: In 3-quart saucepan, cook strawberries, cinnamon, and lemon peel on medium until strawberries are soft but still red, stirring, 8 to 10 minutes. Transfer to blender; puree until smooth. Stir in vanilla and lemon juice.
Make the Parfait: In 8-ounce jar, distribute granola, nonfat plain yogurt, and coulis in layers. Can be refrigerated, sealed, overnight. Garnish with strawberry.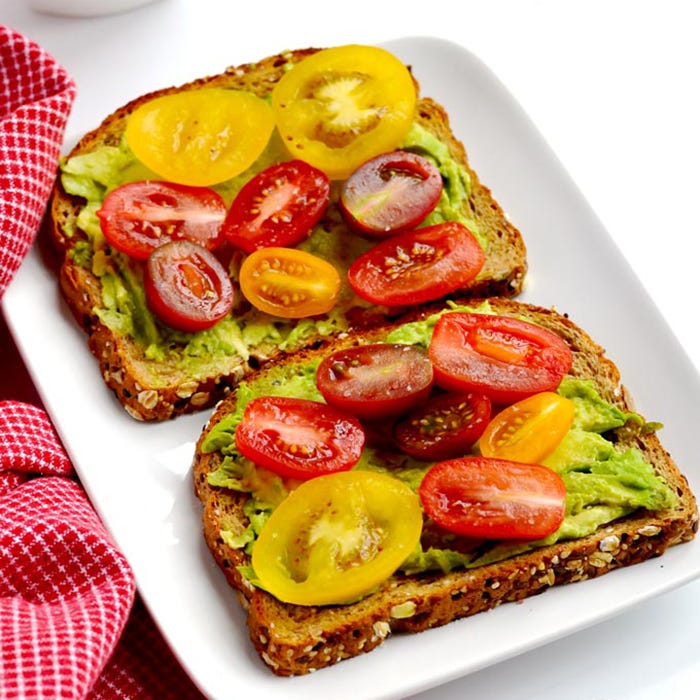 A Pinch of Healthy​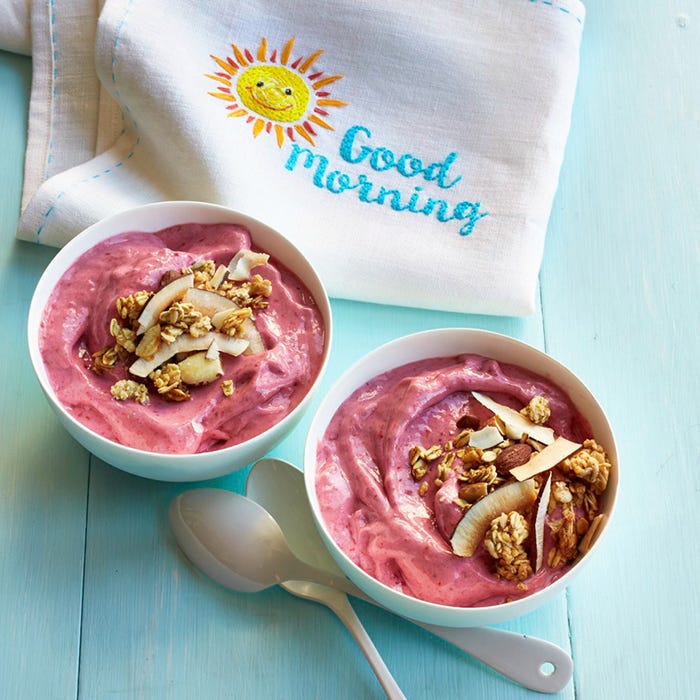 Smoothie Bowl
It only takes five minutes to create this Instagram-worthy smoothie bowl from Delish. It's full of good-for-you stuff like raspberries, bananas, Greek yogurt, and chia seeds.
2 c. frozen raspberries
2 bananas
1/2 c. nonfat Greek yogurt
1 tbsp. chia seeds (optional)
1/2 c. lowfat milk
Granola, for serving
Toasted coconut flakes, for serving
In a blender, puree the raspberries, bananas, yogurt, chia seeds (if using) and milk until smooth. Divide between bowls and top with granola and toasted coconut, if desired.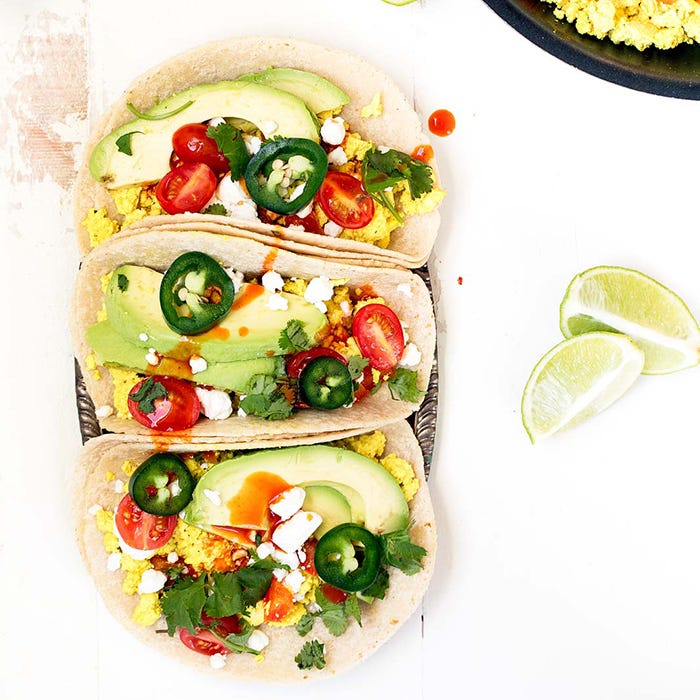 Scrambled Tofu Breakfast Tacos
It's super easy to meal prep these protein-packed tacos so you can eat them throughout the week. And trust us: When you top the scrambled egg-like tofu with avocado, jalapeños, and tomatoes, you'll be in pure breakfast heaven.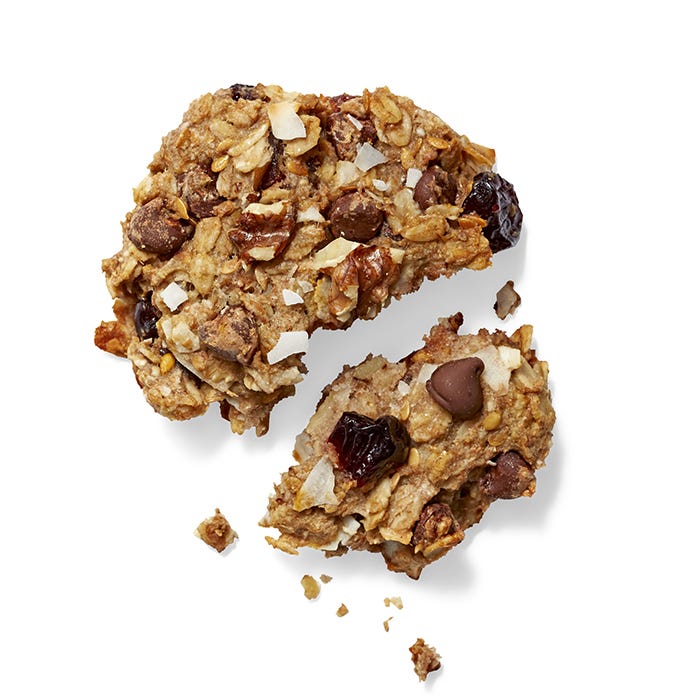 Breakfast Cookies
Cookies? For breakfast? You heard us right.
2 Tbsp flaxseeds (optional)
1 cup mashed bananas (about 3 ripe bananas)
1/4 cup coconut oil or butter, melted
1/ 2 cup whole-wheat flour
1/ 2 cup unsweetened coconut flakes
1/ 2 cup semisweet chocolate chips
1/4 cup dried cranberries
1/4 cup chopped nuts (optional)
1. Heat oven to 350°F. Combine the flaxseeds with 5 Tbsp water. Let sit until seeds absorb some liquid, about 10 minutes.
2. In a bowl, combine the flaxseeds, bananas, honey, coconut oil, and vanilla extract.
3. In a larger bowl, combine the oats, whole-wheat flour, coconut, baking powder, baking soda, and salt, and whisk together to incorporate. Pour in the banana mixture and add the chocolate chips, dried fruits, and nuts (if using). Fold to combine using a rubber spatula.
4. Scoop 1 heaping Tbsp of batter onto a parchment-lined baking sheet and press down using the back of a spoon to flatten slightly. Repeat with rest of the batter. Bake until golden brown, rotating once, about 18 to 20 minutes. Transfer cookies to a wire rack to cool, and store airtight at room temperature.
Makes 16 cookies. Per cookie: 145 cal, 8 g fat (6 g sat fat), 2 g protein, 19 g carb, 3 g fiber.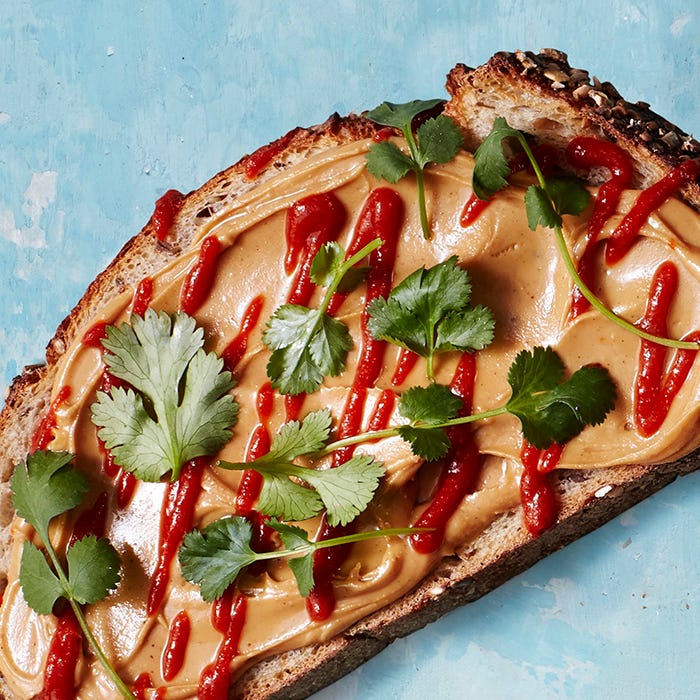 Peanut Butter and Sriracha Toast
This toast combo is definitely interesting, but the spiciness from Sriracha pairs with peanut butter better than you'd think — plus, it's a great way to kick-start your metabolism for the day. Add some cilantro for even more flavor.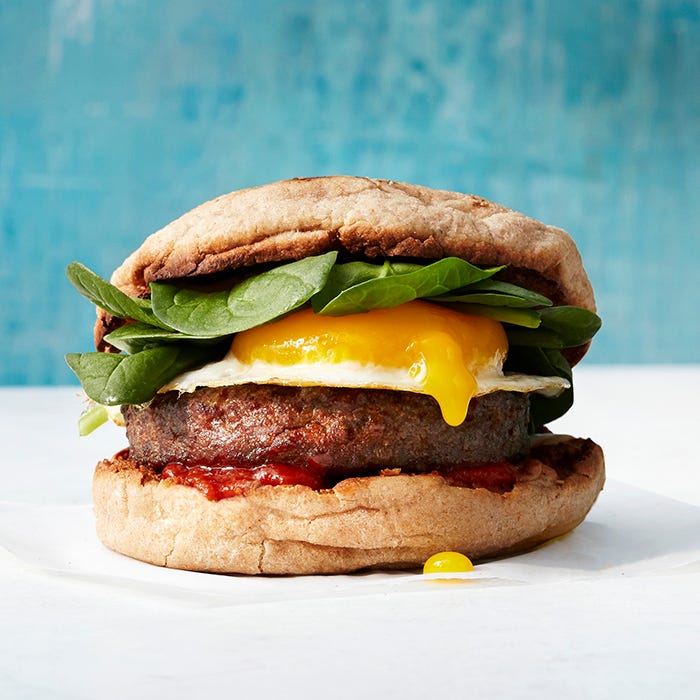 Best-ever Egg Sandwich
This one will give your local deli a run for its money.
1 whole-wheat English muffin
1 veggie sausage patty (we like MorningStar Farms; see note)
Handful of baby spinach leaves
1. Toast the English muffin and nuke the patty according to instructions.
2. Meanwhile, in a nonstick skillet over medium heat, add the olive oil. Crack the egg into a small cup (this will help you fish out any bits of shell) and pour the egg into the pan. Let sizzle for about 1 minute, until the edges are cooked. Lower the heat to medium-low, cover skillet, and cook until the whites are done but the yolk is still runny, about 1 minute longer.
3. Assemble the sandwich by placing the veggie patty on the bottom bun (we squirted on some Sriracha), then the egg, spinach, and top of the bun.
Makes 1 sandwich. 330 cal, 14 g fat (3 g sat fat), 22 g protein, 6 g carb, 6 g fiber.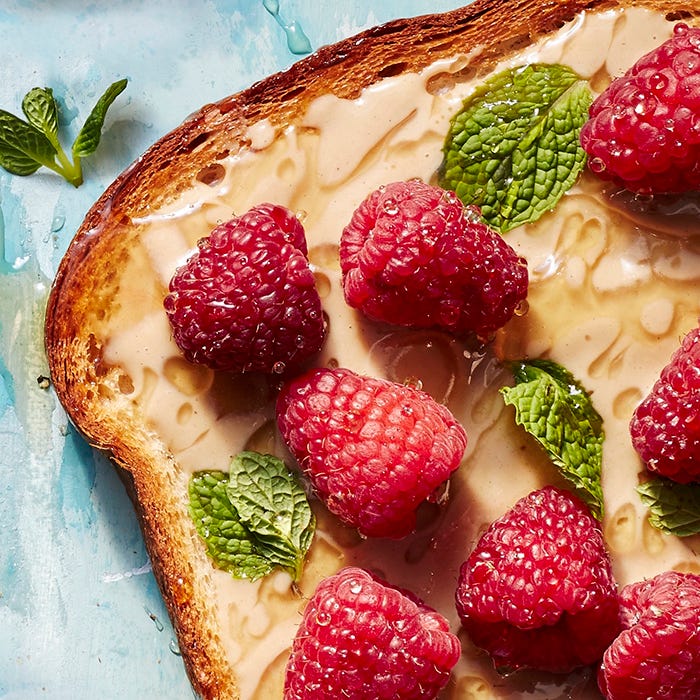 Raspberry-Tahini Toast
For a sweet and savory mix, start your day with a piece of toast that includes tahini, raspberries, honey, and fresh mint.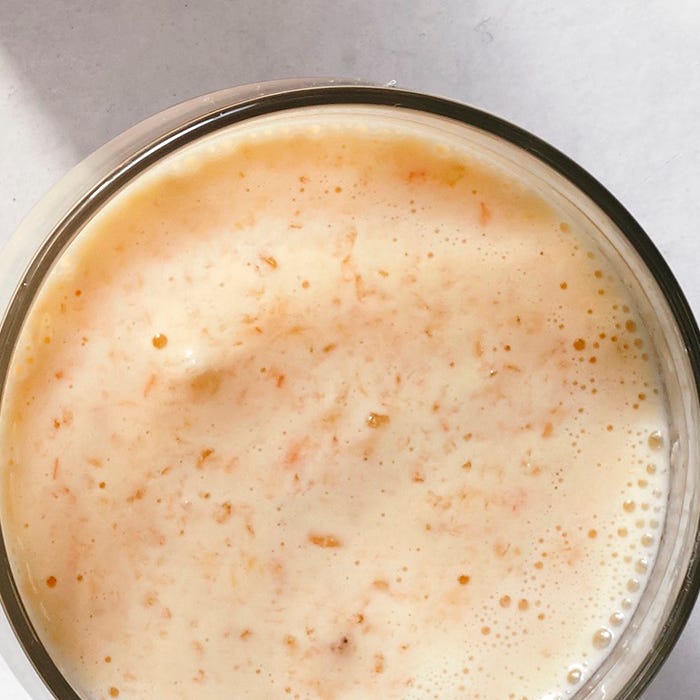 Creamsicle Smoothie
1 peeled and frozen navel orange
Combine all ingredients in a blender and purée until smooth. Makes 2 smoothies.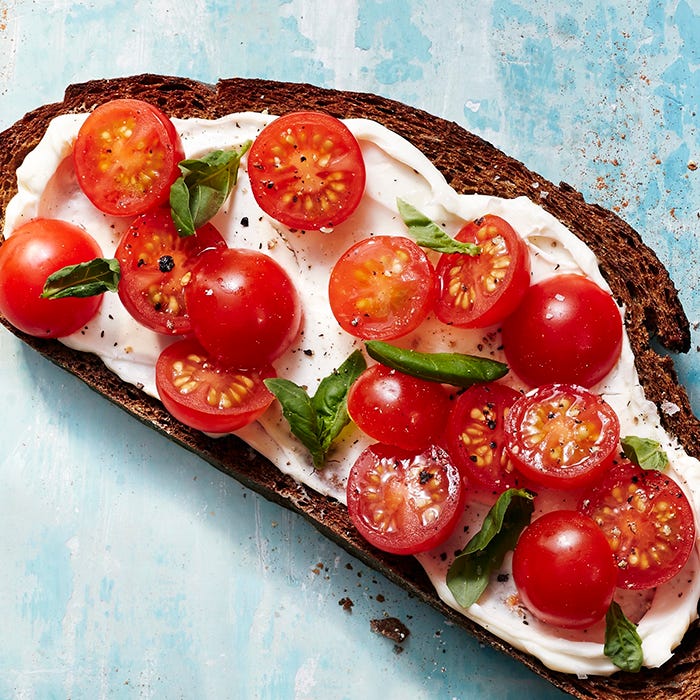 Cream Cheese and Tomato Toast
Love cream cheese? Whip up this combo that's topped with halved cherry tomatoes, basil, salt, and pepper for a savory breakfast option.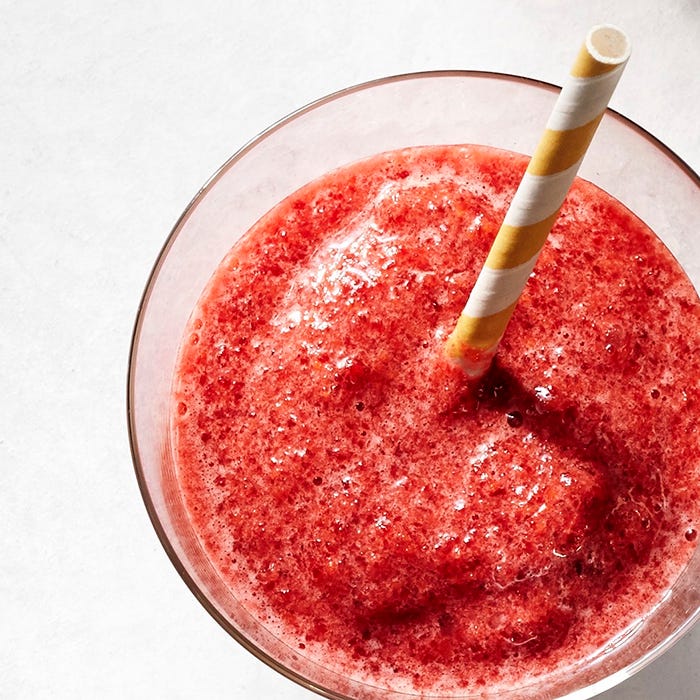 Veggie smoothie
This beet smoothie is packed with antioxidants. (It tastes pretty good too.)
4 small precooked, peeled, diced, and frozen beets
2 diced and frozen bananas.
Combine all ingredients in a blender and purée until smooth. Makes 2 smoothies.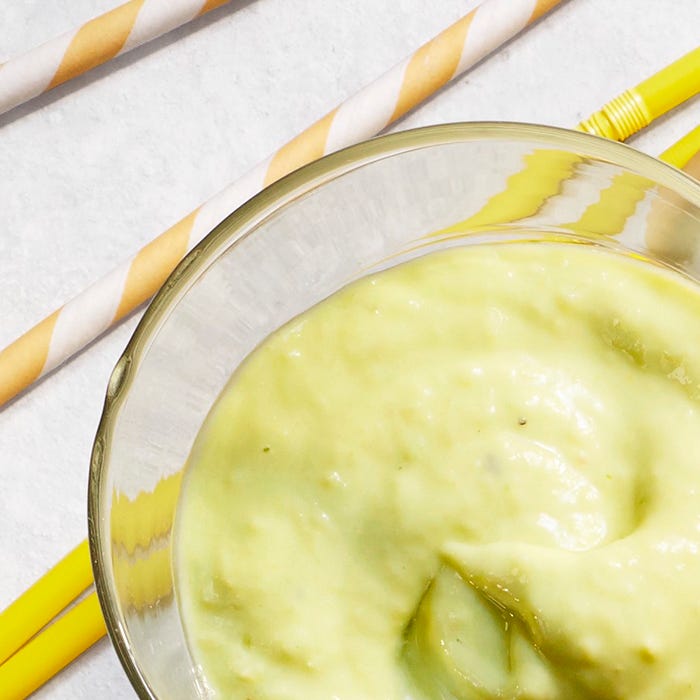 Avocado Kiwi Smoothie
You may be stressed trying to get out the door on time, but at least your taste buds will feel like they're on vacation.
1 cup plain nonfat yogurt
1½ cups frozen pineapple.
Combine all ingredients in a blender and purée until smooth. Makes 2 smoothies.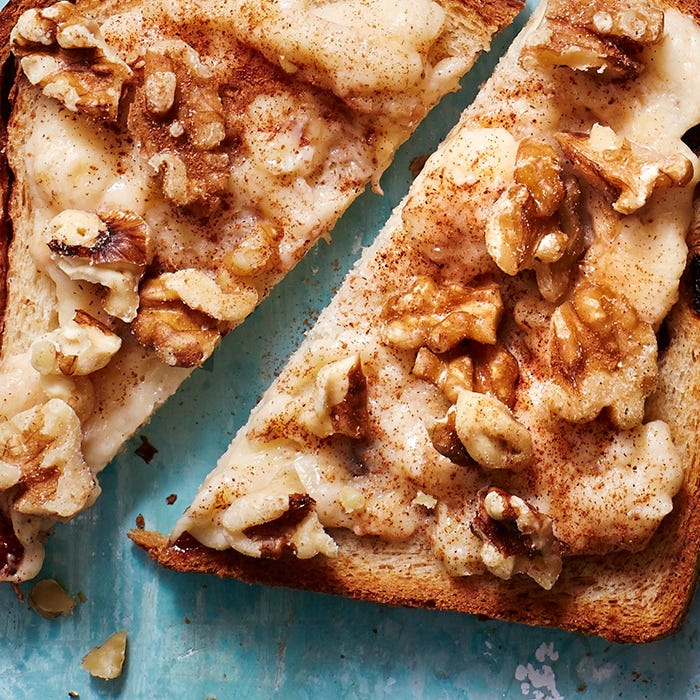 Banana, Walnut, and Cinnamon Toast
Dessert toast, coming right up. For an easy-to-make breakfast treat, spread on some mashed bananas — then top with walnuts and as much cinnamon as your heart desires.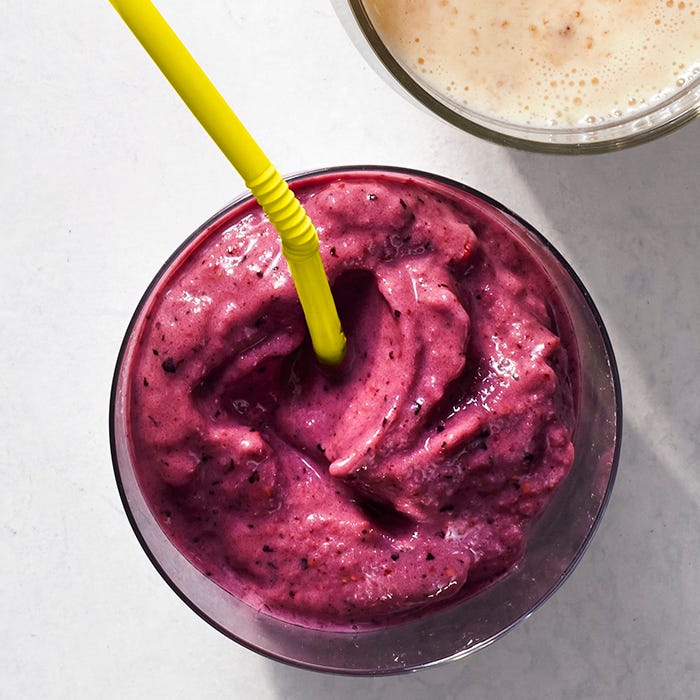 Berry Smoothie
Berry-flavored anything is never a bad idea.
½ cup each frozen blueberries and frozen raspberries
1 cup frozen strawberries
1 cup plain nonfat yogurt
Combine all ingredients in a blender and purée until smooth. Makes 2 smoothies.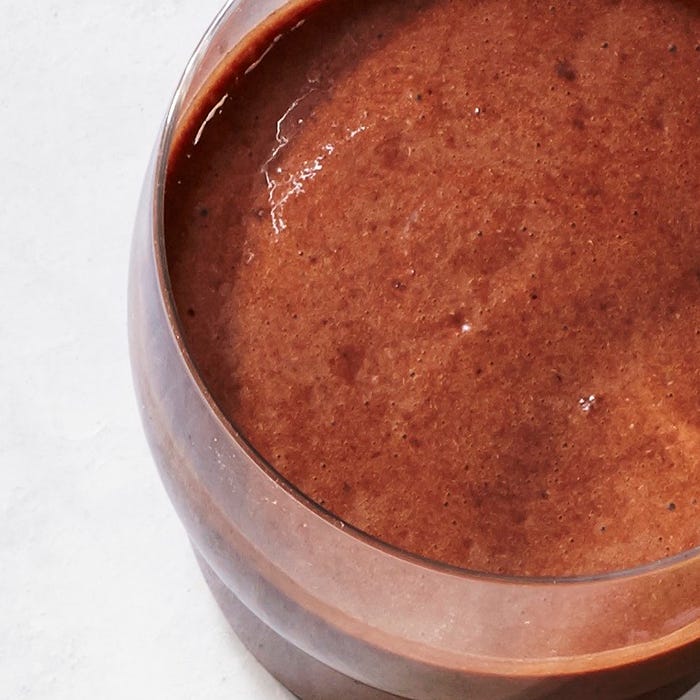 Cocoa Almond Smoothie
Who says chocolate's just for dessert?
2 chopped and frozen bananas
Combine all ingredients in a blender and purée until smooth. Makes 2 smoothies.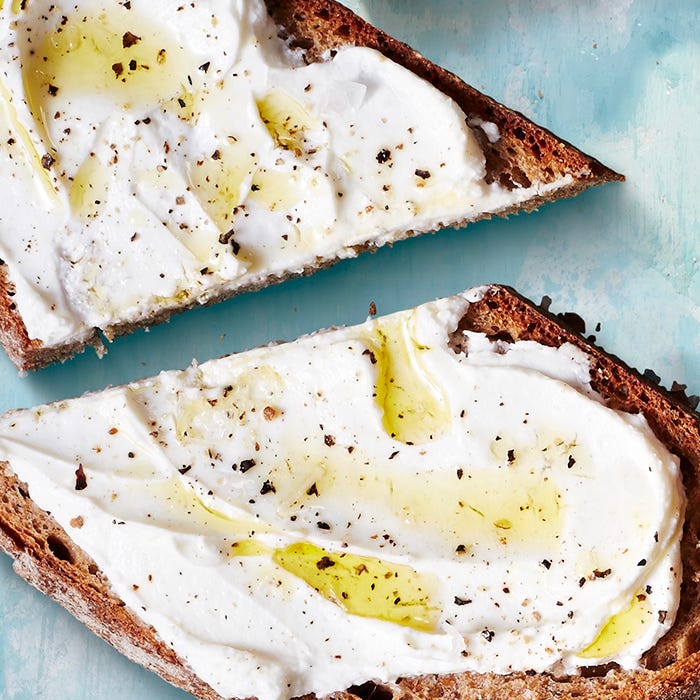 Labneh Spread
Labneh — a soft cheese made from strained yogurt — makes for the perfect toast spread. And when you add on some salt, pepper, and a good drizzle of olive oil, it's even better.